Seaton & Sidmouth Eats Boutique
Eats Boutique street food markets return for 2021 in 2 new venues but in the same wonderful communities. The […]
Written by Alfie Matthews
posted to Devon News
Eats Boutique street food markets return for 2021 in 2 new venues but in the same wonderful communities.
The business behind the Eats Boutique street food markets is Unique Boutique Events, and the face behind that is Eleanor Carr, a resident of Colyford, East Devon. Eleanor started up the Friday evening street food markets in the summer of 2015 as a bit of an experiment and has been building them since into a sustainable business. Unique Boutique Events aspires to support local and independent businesses, to offer employment and create opportunity for community cohesion with these accessible events.
Our events are all about community: more so than ever we need to get together in person and share the roller coaster of life. What better way than to do so than under the big open sky on a Friday evening? With the humble gesture of gathering around the table we nourish ourselves with great food, and with food we find commonality. We build bridges, we build relationships, we build community.
Until 2020 I hadn't received direct sponsorship or financial investment to run any of my events, other than fantastic business support from funded enterprise agencies such as Business Information Point. During the quiet summer of 2020 I went through a rigorous 3 stage application process to be accepted onto The Lloyds Bank Social Entrepreneurs Start Up Programme, in partnership with the School for Social Entrepreneurs, and jointly funded by The National Lottery Community Fund. The programme is giving me the opportunity to take Unique Boutique Events to the next level in the way I think about what we do and why we do it, and crucially, how we do it. To that end I consider Unique Boutique Events to be a social enterprise.
Its been an exceptionally difficult period for many people, and especially people like us in the events industry. While much uncertainty remains for large events, our small scale, busy markets are able to come back, with a few temporary adaptations.
Seaton Eats Boutique starts up again on a wild card date of Friday 28 May, after which it will resume its first Friday of the month on Friday 2 July. It has a new venue of Cliff Field Gardens, offering unrivalled views of the cliffs and sunset as well as space for social distancing. The gardens are owned by Seaton Town council and with the hire fee going straight back into benefitting the town it is a joy to see this wonderful community asset being used for a popular local event.
Sidmouth Eats Boutique is back in town on Friday 25 June, taking place on the 4th Friday of the month on the lawn at Kennaway House. We are delighted to be partnering up with Kennaway House; this is a great example of how small enterprises can work together to make something brilliant happen. This elegant regency town house is such an asset to the area and our street food events will help to bring further exposure to the venue as well as additional revenue to the charitable trust. In return Sidmouth Eats Boutique has a new place to call home.
Each event will host a different set of traders so for menu details and other updates check on the website event calendar and the relevant facebook pages.
Listing details: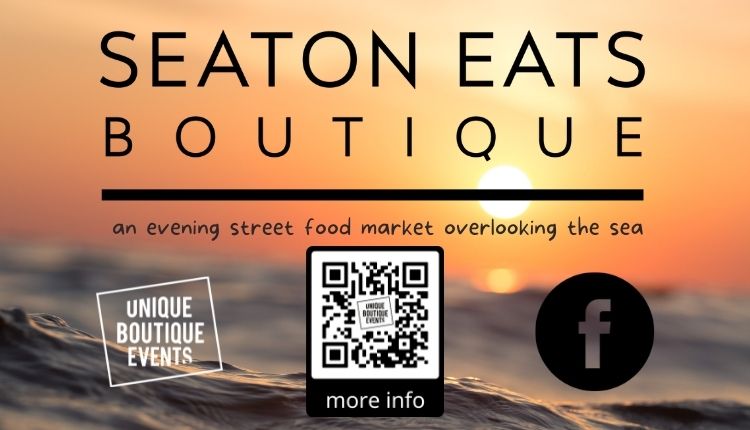 Event name: Seaton Eats Boutique
Dates: Fridays – 28 May, 2 July, 6 August, 3 September
Times: 4-9pm
Location: Cliff Field Gardens, Beer Road, Seaton, EX12 2PH
Website: www.uniqueboutiqueevents.co.uk/SeatonEatsBoutique
Facebook: @SeatonEatsBoutique
Instagram: @unique_boutique_events
WhatsApp: 07970 857696
Email: [email protected]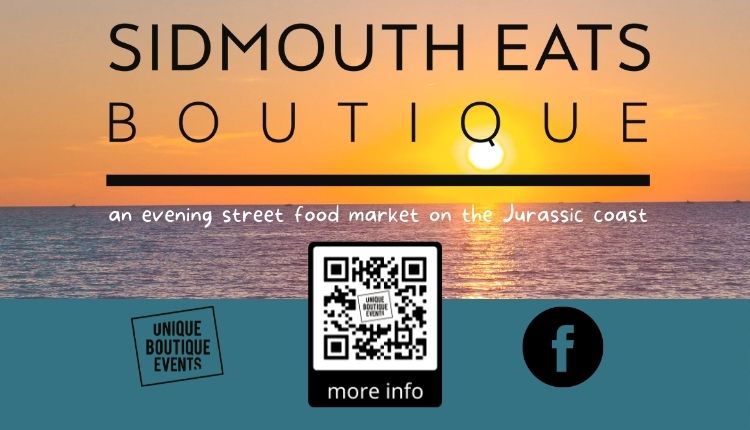 Event name: Sidmouth Eats Boutique
Dates: Fridays – 25 June, 23 July,27 August
Times: 4-9pm
Location: Kennaway House, Sidmouth EX10 8NG
Website: www.uniqueboutiqueevents.co.uk/SidmouthEatsBoutique
Facebook: @SidmouthEatsBoutique
Instagram: @unique_boutique_events
WhatsApp: 07970 857696
Email: [email protected]