Lyme Bay Holidays 2021 Wine Index
At Lyme Bay Holidays, we are big fans of wine – and we're sure many of you are too. […]
Written by Ben Matthews
posted to Food & Drink Blog
At Lyme Bay Holidays, we are big fans of wine – and we're sure many of you are too. So, what better way to celebrate our collective love of wine than dig a little deeper into UK vineyards and some of the top wine loving cities.
We have gathered data from Google Search and TripAdvisor as well as Instagram, Facebook, and Twitter to formulate this wine index and provide you with some interesting insight to world of UK wine.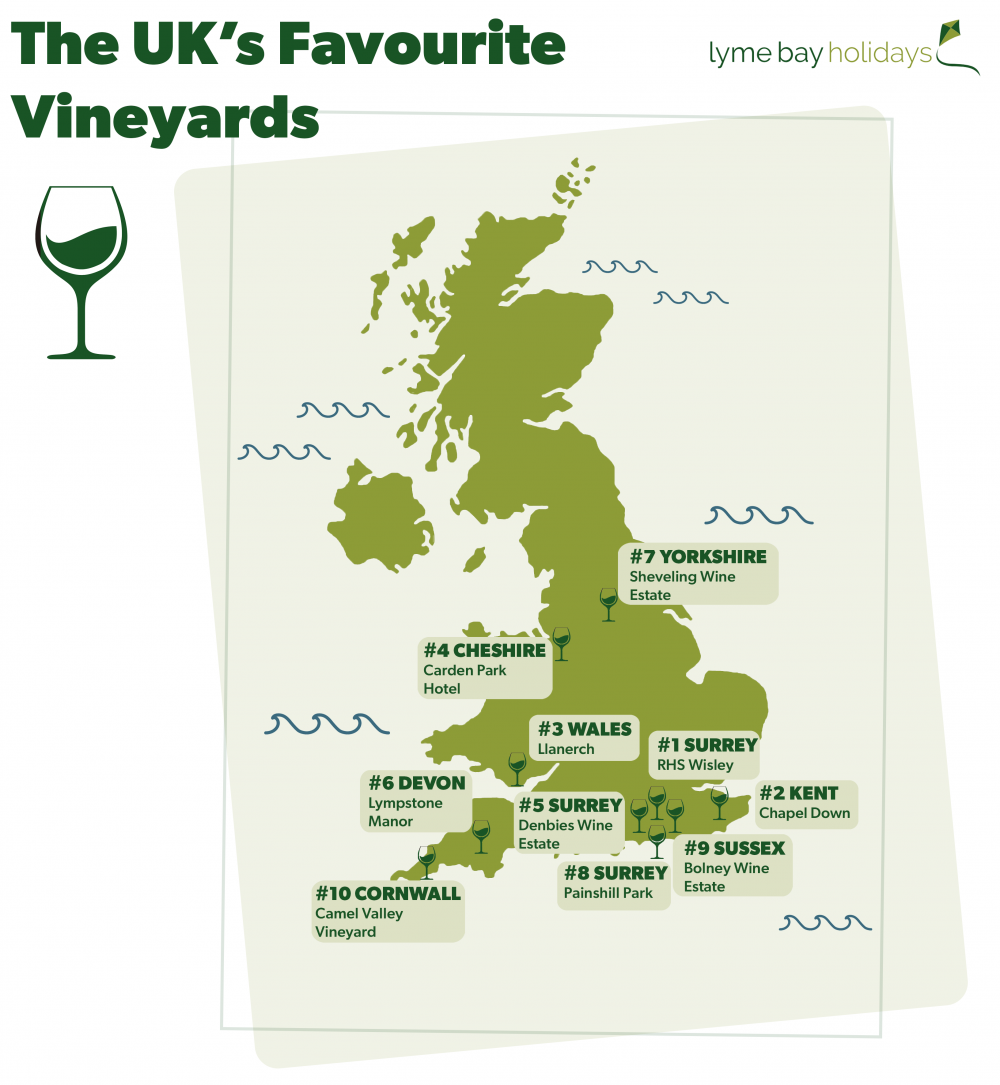 Everything you Need to Know About UK Vineyards
When it comes to fine wine production, the UK may not be the first country to spring to mind. However, in recent years we have really upped our wine game here in the UK – with over 200 commercial vineyards across the country. From Reds, Rose's and Whites to various Sparkling Wines, the UK has lots to offer – and it isn't only the wine that is beautiful but the vineyards too.
With holidays abroad still up in the air for 2021, a trip to a UK vineyard could be just what you need – good food, good wine and great views are all on the table for this summer. In Devon alone we have 22 vineyards – so you can soak up some sea air, pay a visit to the coast and enjoy visiting some of the UK's best vineyards whilst you're there.
As UK wine production hasn't necessarily been at the forefront of the wine world for long, we've been on a bit of a fact-finding mission so we can share with you everything you need to know about UK wines – from the best on offer to where to stay when you visit.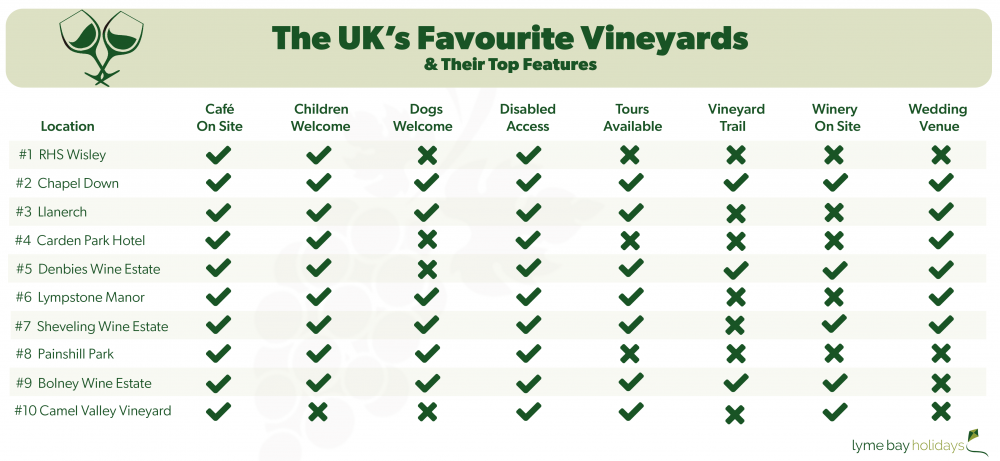 The UK has Loved Wine for a Long Time
Despite only becoming a player in the world wine market around 30 years ago, the UK has actually been producing wine for centuries.
Wine was first brought to England by the Romans and the existence of English Vineyards dates back to Medieval times. By the time Henry VIII came to the throne there were 139 vineyards in England – but following his reign they declined significantly.
The current oldest commercial vineyard in the UK is Hambledon Vineyard which dates back to 1952.
It is no surprise then that Winchester makes an appearance in our top 20 wine loving cities in the UK – situated only 30 minutes away from Hambledon Vineyard.
However, that doesn't top Cambridges love for wine – the University town tops our list – with their preference being Red Wine.
UK Grape Varieties
UK vineyards are now home to over 60 varieties of grapevines – with some of the most popular being Chardonnay and Pinot Noir. Both of these are champagne varieties, which is why it is no surprise that the UK produces more sparkling and white wine than it does red and rose wine.
More than 60% of UK vines are made up of Chardonnay, Pinot Noir and Pinot Meunier which are all champagne varieties. However, it might surprise you to know that despite this – our research revealed that the UK's favourite wine is red!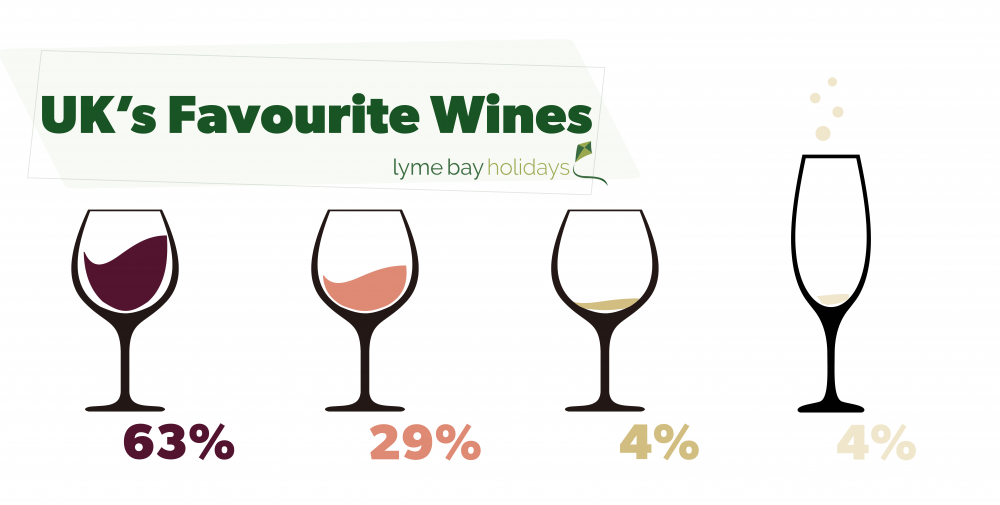 Looking for an alternative to your favourite wine?
The growth of the UK wine industry, and warmer climates means that the UK is producing some high-quality wines that might even be worthy of replacing some of your all-time favourites. For the Sauvignon Blanc lovers out there, Bacchus is a white grape grown in England that is hailed as the 'English Sauvignon Blanc'.
For champagne fans, the Nyetimber sparkling wines have won various awards – including their head winemaker winning the highest award at the International Wine Challenge 2018. Cherie Spriggs was the first winemaker, from outside the champagne region, to win the award.
Dorset and Devon Vineyards
We are very fortunate in South West England to have an array of high-quality vineyards. In fact, as we mentioned Devon is home to 22 vineyards making it the English county with the second highest number in the country.
Our research revealed, Lympstone Manor in Devon is one of the UK's favourite vineyards. Only a short 45-minute journey from Seaton, you can find a wide range of cottages to call your home for a visit to this beautiful vineyard.
For lovers of a red wine, Torview Vineyard in Devon is one of the top producers of red wine. If you fancy paying a visit – we have a variety of Devon holiday cottages which are all within 1 hour 40 minutes, or less of the Torview Vineyard.
If you're a fan of sparkling wines, whites and rose you could pay a visit to Castlewood Vineyard in East Devon. It is open by appointment only, but you can visit by booking in advance. This is a great location if you're visiting any of our cottages in Devon, Dorset and Lyme Regis as it sits in the Musbury area of Devon – a short journey from each region.